STLE 2022 Annual Meeting & Exhibition
2022/05/31
Vorletzte Woche nahmen Herr Steffen Puchtler und Herr André Harder erfolgreich an der 76th STLE Annual Meeting and Exhibition der Society of Tribologists and Lubrication Engineers (STLE) in Orlando, Florida, teil.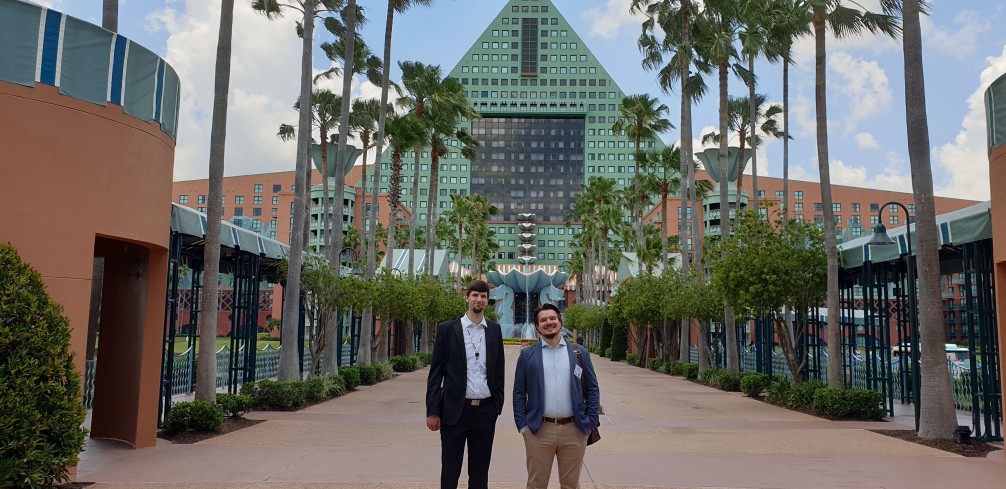 Herr Puchtler stellte in seinem Vortrag "Analyzing Ball Bearing Capacitance Using Single Steel Ball Bearings" seine neuesten Forschungsergebnisse über eine analytische Methode zur Berechnung von Wälzlagerkapazitäten vor. Herr Harder präsentierte auch seine neuesten Erkenntnisse über strominduzierte Schäden in Axialrillenkugellagern in seinem Vortrag "Investigation of the Voltage Induced Fluting Pattern Progression in Thrust Ball Bearings".
Wir freuen uns, dass Herr Puchtler und Herr Harder wieder an einer Konferenz vor Ort teilnehmen konnten, insbesondere mit zwei so hervorragenden Beiträgen! Es ist eine grundlegende Erfahrung, wieder an Konferenzen vor Ort teilnehmen zu können, das Publikum vor sich zu haben und sich mit anderen Wissenschaftlern an einem echten Tisch auszutauschen.